Dinner car 4129-41 van the Miljoenenlijn - Zuid Limburgse Stoomtrein Maatschappij (ZLSM)
1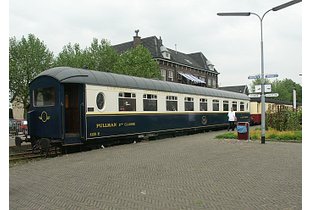 Copyright www.locaalspoor.nl
2
| | |
| --- | --- |
| Name | Pullman |
| Manufacturer | Metropolitan Cammell Carriage & Wagon Co Ltd Birmingham |
| Year build | 1927 |
| Gauge | 1435 mm |
| Location | Simpelveld |
| Ready for service? | ja |
| Status NRR | B |
| Weight | 54 ton |
| Total length | 34,45,2 m |
| Classification | 2'2 |
| Max. speed | 120 km/h |
| Orig. owners | Wagon Lits, DSM |
| Historical numbers | Pullmann 4129 |
The Pullman 4129 was built by the Metropolitan Cammell (Birmingham) in 1927. Before and after the second world war this carriage was a part of the famous 'Etoille du Nord' between Paris, Brussels and Amsterdam.
From 1931 to 1937 the 4129 was also used for domestic services between Amsterdam and Flushing.
In 1962 the 4129 was bought from Wagon Lits by the Dutch state mines. In the sixties and seventies she was used to show important guests around the then extensive railroadnet of the state mines. One of the carriages ends was modified, the bellow was removed and replaced bij a large window.
Upon reducing the internal railnet the carriages rarely left the shelter. The last time was during the festivities to celebrate 150 years of railroads in the Neterlands . For this occasion the NS brought the interior of the 4129 to the origional condition, she was repainted in the origional Wagon Lits-colors (cream/dark blue).
After this celebration DSM was looking for a new destination for the carriage. By then the ZLSM had been erected and that seemed a appropriate destination.
Data maintained by:
David Merz, email: david.merz(a)miljoenenlijn.nl
Please substitute (a) for @, this is an anti-spam measure