Museumstoomtram Hoorn-Medemblik (SHM)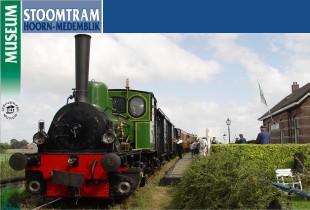 | | |
| --- | --- |
| Founded in | 1969 |
| Gauge | 1435 mm |
| Track length | 21 Km |
| Homepage | Homepage for SHM (externe link) |
|   | Fahrplan von SHM (externe link) |
The most exciting journey through time by steamtram and boat!
... the Ultimate Classic Holland Experience
The engine whistles and the fireman puts coal onto the fire. Wooden partitions creak, wheels sing and steam hisses. From the wooden or cushioned seats in your carriage you will experience a story from a different era. Between the historic "Zuiderzee" towns of Hoorn , Medemblik and Enkhuizen steamtrams meander from village to village across the Westfrisian countryside and an old-fashioned steamer with a fantastic saloon-deck sails along the coast of lake IJsselmeer.
Pay a visit to the Museum Steamtram and get on board for one of the most thrilling journeys through time. This is the registered museum focusing on the history of the steamtramways in Holland.
Data maintained by:
W. Adriaanse, email: wadriaanse1985(a)gmail.com
Please substitute (a) for @, this is an anti-spam measure